Press release
Fruit retailer fined after failing to meet marketing standards
An independent retailer has been ordered to pay over £4,000 for selling rotten fruit in his store.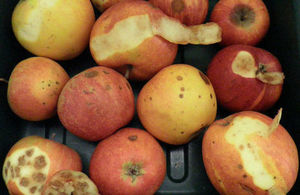 Appearing at Sunderland Magistrates on 11 June, Marc Philip Farnsworth, owner of M Farnsworth, in Bede Precinct, Jarrow, was found guilty of displaying and offering for sale fresh fruit below the minimum standards permitted.
The court fined Mr Farnsworth £1,000 and ordered him to pay full investigation costs of £2,826, prosecution costs of £620, and a £100 Victims Surcharge - making a total penalty awarded of £4,546.
The case was brought following an investigation by the Rural Payments Agency's (RPA) Horticultural Marketing Inspectors (HMI). The inspectors are responsible for the enforcement of the EU marketing standards for fresh fruit, vegetables, salad crops, nuts and cultivated mushroom, throughout England and Wales, wherever fresh produce is grown, imported, exported, bought or sold. These standards will continue to be enforced after we have left the European Union.
Several visits were made to the Jarrow store, during which inspectors found it was selling apples that were severely bruised– making them unfit for human consumption. Rotten figs and bruised and rotten peaches were also for sale.
Mark Buckle, regional manager for HMI, said:
On visiting the store our inspectors found apples that were so badly bruised they should not be eaten – let alone placed for sale. Repeated attempts were made to engage the store's owner in addressing the issues, but he failed to take action and it was necessary to progress this through the courts.

We will do all we can to ensure unsatisfactory produce is kept off the market. The fine received here should serve as a warning to others that if they are not labelling products correctly, or selling fruit and veg that is of an unacceptable quality then action will be taken against them.
Published 14 June 2018