From Cawl to Rarebit: a Greek food blogger's guide to Welsh traditions
As part of activities to mark the NATO Summit in Wales, the Embassy organised 'Tasting Wales' with 9 of Greece's most creative food bloggers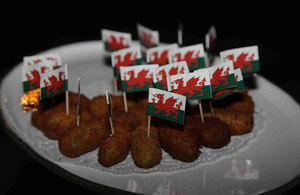 The aim was to promote unknown Welsh recipes to the Greek audience. The outcome was a series of online posts of 8 deliciously creative recipes, tailored to the taste-buds of Greeks. 'Tasting Wales' kicked off on 1 September, marking 'Wales day' on social media, and lasted on until 7 September, with one recipe being posted each day. It provided a fantastic opportunity to demonstrate what Wales has to offer in terms of culinary exploits.
If you are interested in finding out more about the recipes click here:
The most interesting part of 'Tasting Wales' online project was the Greek twist that our food bloggers gave to traditional Welsh recipes.
Here is what they said about their experience:
In general I love all British delicacies that are served with tea but never had the chance to taste this fruity bread before. As soon as I realised that most recipes of Bara Brith included a sugary orange peel, I immediately thought to replace it with the handmade Greek traditional bergamot marmalade, stored in my kitchen. The result was super delicious! - Elenna is Cooking
Wales is the only place in Britain that I have not yet visited and this project was an excellent opportunity to get to know it, through its gastronomical tradition. What I never expected was how well Welsh pancakes matched with traditional Greek tastes such as mastic and tahini' - Foodaki.gr
According to the classic Welsh Claw recipe, it should be served with classic welsh cheese, but I decided to combine the sweetness of this dish with the spicy taste of Kopanisti, one of the best of Greece's local cheeses coming from the island of Mykonos! - FunkyCook
Published 9 September 2014