French cadets meet the Royal Navy
A group of 40 Officer Cadets from the French Navy have spent the weekend at Portsmouth Naval Base to help build the relationship between the French and British Navies.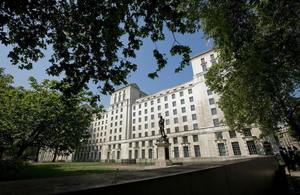 The cadets from the Naval Academy in Brest arrived on Friday 21 January 2011 on board the French training ships FS Lynx, Leopard, Chacal and Tigre.
Included in their visit was a seminar with French liaison officer Commander Franck Lereculey, a tour of the naval base, and a meeting with fellow Royal Navy Officer Cadets.
Commander Lereculey said:
This is a training session for the cadets who will be perfecting their core seamanship skills - so they will be looking at navigating a ship for example.

We want to show the co-operation between the two navies - there has been a lot of talk about the bilateral working between the navies but this is about looking at joint working at a higher level between the two countries.
For many of the Officer Cadets this was the first time they have visited the UK, and it is an important part of their programme to meet the navies they will be working with once they are deployed to French units in the summer.
Lieutenant Edouard Carrard of FS Lynx said:
We are enjoying coming here to Portsmouth - for me it is the first time and it is a real pleasure to be in the UK for the next few days. It is good to enforce the relationship between France and the UK, and also for the cadets it is a good opportunity to discover more about the Royal Navy and how they operate.
Our two navies are used to working together on operations around the world so it is a very good thing for us to continue to build the relationship and for us to visit each other.
As well as French nationals, the French Navy also has exchange programmes with other international navies - and German naval cadet Sub-Lieutenant Martin Pickenhayn has been with the service for five years. He said:
This is the first time I have been to Portsmouth. I've been to Southampton and London before but this is a new experience for me. We will be meeting up with some of the English Officer Cadets so we are looking forward to that as well.

I think it is very important that we all work together - we are all part of NATO and we share common interests. It is important also that young officers get to know other navies and their points of view and how they work. It helps our relationships because we know that we will be working with them in the future so it is a good starting point for us today.
Published 25 January 2011