News story
Free support launched to boost small and medium sized business directors
Get It Right - First Time' is aimed at business owners looking for help with protecting their Intellectual Property (IP) and understanding the…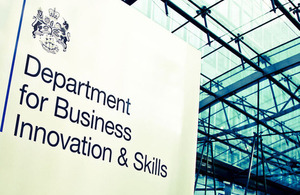 Get It Right - First Time' is aimed at business owners looking for help with protecting their Intellectual Property (IP) and understanding the responsibilities as a First Time Director.
Baroness Wilcox, Minister for Intellectual Property said:
"These events are enormously helpful for directors who have little or no experience of protecting their IP, or are new to being directors.
"Having run my own business, I know how starting up your own company can be a daunting experience and I am delighted that we can offer directors free support and expert guidance on two key areas of their business.
"I hope that many directors will sign up for these events and use the experience to grow their companies."
The joint venture between the IPO and Companies House will be hosted by experts from both offices. The team from the IPO will present a variety of seminars that will explain the basics of IP: what it is, why it's important, how to protect it and then how to exploit it commercially. The seminars will also support business owners and managers, explaining all they need to know about their responsibilities as a First Time Director. This will include information about the incorporation process and how to use the many tools and resources provided by Companies House.
To find out more about 'Get It Right - First Time,' including the full list of upcoming events taking place across the UK, visit: www.ipo.gov.uk/getitright.
Today the IPO has also published: "From ideas to growth: Helping SMEs get value from their intellectual property." The paper sets out the IPO's plans for improving access to the knowledge, knowhow and support that will help SMEs maximise the value of their intellectual property assets, and develop strategies to manage them effectively. This supports the Government's approach to SMEs and its Business in You campaign which looks to encourage more people to start or grow their business throughout 2012.
The IPO would now like to talk to SMEs, business advisers and representative bodies to discuss these plans in more detail and plans to hold a series of round table discussions in the coming months. Further details can be found at: http://www.ipo.gov.uk/business-sme.pdf
**Notes to editors **
---
The Intellectual Property Office (IPO) is part of the Department for Business, Innovation, and Skills (BIS) and is responsible for the national framework of Intellectual Property rights, comprising patents, designs, trade marks and copyright.

Its role is to help manage an IP system that encourages innovation and creativity, balances the needs of consumers and users, promotes strong and competitive markets and is the foundation of the knowledge-based economy.

It operates in a national and an international environment and its work is governed by national and international law, including various international treaties relating to Intellectual Property (IP) to which the United Kingdom is a party.

For further information, please contact Veena Mapara <mailto:veena.mapara@bis.gsi.gov.uk> on 0207 215 5614.

For emergency media calls out-of-hours please contact the duty press officer at the Department for Business, Innovation and Skills on +44 (0) 207 215 3505.
Notes to Editors
Contact Information
Name Veena Mapara Job Title
Division Department for Business, Innovation & Skills Phone 020 7215 5614 Fax
Mobile
Published 3 April 2012