Press release
Free flood warnings for EE mobile customers
New project gets vital flood warnings to those at risk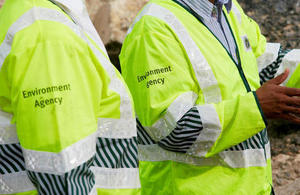 A ground-breaking scheme to send free Environment Agency flood warnings to EE mobile phone users will be completed this week with more than 400,000 people registered around the country.
EE customers registered in specific flood risk areas across Yorkshire will receive a welcome telephone message from the Environment Agency's Floodline Warnings Direct service over the coming weeks.
The scheme is the first of its kind in England and follows successful roll-outs in March and July this year. Following those pilots, less than 1% of people added to the service decided to opt-out.
Since 2010, the Floodline Warnings Direct service has enabled the Environment Agency to automatically register and send warnings to 600,000 homes and business landline numbers. Earlier this week, these warnings were issued to hundreds of properties across West and North Yorkshire, after heavy rain caused rivers in the Pennines to rise.
However, this is first time that flood warnings will be issued directly through a mobile phone provider. This should make it easier for the Environment Agency to warn residents in communities where take up of the traditional warnings service is currently low, such as Hull, Doncaster and Goole.
Jason Rees, EE's Director of New Business, said:
This new service clearly demonstrates the positive contribution that mobile technology makes to our everyday lives. The Floodline Warnings Direct service offers our customers a free and essential service.
John Curtin, Executive Director of Flood Risk Management at the Environment Agency, said:
We want to ensure that everyone has as much time as possible to prepare for flooding and by working with EE we're now able to warn even more people about the risks. Flood warnings save lives and this ground-breaking initiative is another way to provide the public with vital time to protect their belongings and get themselves and their families out of harm's way.
Environment Minister Rory Stewart said:
Flooding can devastate lives, homes and businesses. That's why we are investing in flood protection at record levels, with an unprecedented six-year commitment of £2.3 billion to better protect an additional 300,000 homes by 2021.
While nothing can take away the distress it can cause, it is important that everyone has access the right information, including the flood risk in their area, to give them peace of mind.
This initiative from the Environment Agency is a great example of how we are making more data and technology available to help people plan and prepare for potential floods.
The Environment Agency is now planning to work with other mobile providers to extend the warning service and reach more people directly.
People can check their flood risk and register for free flood warnings by visiting our flood information pages or calling Floodline on 0345 988 1188.
Published 11 November 2015