World news story
Fourth meeting of the London–Hong Kong RMB Forum
The London–Hong Kong Forum convened for its fourth meeting on 12 November in London.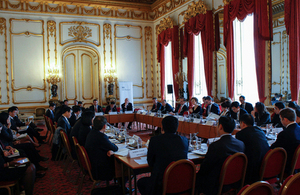 The private-sector led London–Hong Kong Forum, established in 2012 to promote cooperation on the development of international renminbi (RMB) business, convened for its fourth meeting on Wednesday 12 November in London. The meeting was attended by senior representatives of the London and Hong Kong offices of thirteen banks*, and facilitated by Hong Kong Monetary Authority (HKMA) and HM Treasury officials.
The Forum participants discussed the developments in the RMB market in the world's two top RMB hubs since the Forum last met, specifically:
in London, participants welcomed the appointment of a clearing bank, the landmark issuance by the UK Government of the first non-Chinese RMB denominated debt and the expansion of RMB investment opportunities in London through the award of 4 RQFII licences to UK-based firms
in Hong Kong, participants noted continued strong growth in RMB trade settlement, bond issuance, and the active use of RQFII quota for investment activities. Member banks welcomed enhancements in the RMB financial infrastructure in Hong Kong and looked forward to the imminent launch of the Shanghai-Hong Kong Stock Connect
Member banks agreed to work on developing both the London and Hong Kong RMB markets in the following ways:
improve RMB fund transfers between London and Hong Kong
develop an RMB repo market
encourage further corporate and sovereign RMB bond issuances
provide expanded RMB investment options to their customers in both markets
promote corporate and investor interest in commodities trading in RMB
At a reception event at the Hong Kong Economic and Trade Office on the evening of 12 November, the Economic Secretary to the Treasury Andrea Leadsom thanked participants for their input and reflected on the success of the partnership to date:
…in the renminbi we [London and Hong Kong] have found another common objective – one driven by the most important financial development of this century. When Chancellor George Osborne and Norman Chan, Chief Executive of the HKMA, agreed to establish this Forum back in January 2012 I am not sure even they knew how successful it would be. But this is still so much further to go in this important work, as this Forum has identified.
The 5th London–Hong Kong Forum will be convened in Hong Kong sometime during the course of 2015.
The full text of the outcomes statement can be found here.
*Agricultural Bank of China, Australia and New Zealand Banking Group, Bank of China, Bank of Communications, Barclays, China Construction Bank, Citi, Deutsche Bank, HSBC, Industrial and Commercial Bank of China, J.P. Morgan, Royal Bank of Scotland and Standard Chartered Bank
Contacts
Contact the Hong Kong Economic Team if you wish to know more about the London–Hong Kong RMB Forum, London as an offshore RMB hub or investing in financial services in the UK.
Published 13 November 2014