World news story
Fourth bell of historic Jesuit church returns to Chile
The other three bells that used to be a part of the church's bell tower were returned to Chile as a bicentenary gift in 2010.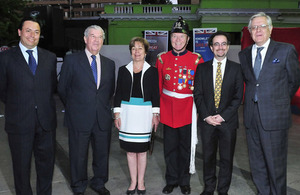 With the presence of Acting Secretary of Foreign Affairs Mr. Alfonso Silva, members of the 14th Fire Brigade of the city of Santiago (better known as the 'Bomba Inglesa') officially received the fourth bell of the old Compañía de Jesús church , which was completely destroyed by a devastating fire that also killed over 2,500 people in 1863 - almost 150 years ago.
The event was also attended by Mrs. Josefa Errázuriz, Mayor of the Providencia District, and the British Ambassador Jon Benjamin, who emphasised that this was the perfect occasion to launch the British Month in Chile. Acting Secretary Silva represented the Chilean President Mr. Sebastián Piñera.
Originally, the Jesuit church had four bells. After the fire occured, a Welsh merchant bought them as scrap and took them to Wales where they remained for almost 150 years. Three of these bells were given as a bicentenary gift to Chile in 2010, and the fourth was officially received on 4 November 2013 by the 14th Fire Brigade. This was a commitment made to the Church of Saint Thomas, in South Wales, who agreed to send it back to Chile as a sign of friendship between the two countries.
HRH Prince Edward, an Honorary Member of the 14th Fire Brigade, was a key actor in the repatriation of the bell as a retribution to the voluntary work members of the 'Bomba Inglesa' and the Chilean Association of Fire Companies do on a daily basis dealing with emergencies. ### Further información
For more information about the activities of the British Embassy in Santiago, follow us on:
Published 5 November 2013