Fourteenth Hajj Consular Delegation launches
The Hajj Consular Delegation to accompany British pilgrims to Saudi Arabia was launched today by Foreign Office Minister Mark Simmonds.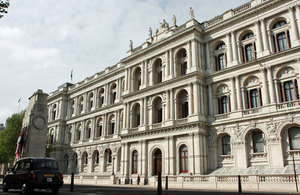 This is the 14th year for the Hajj Consular Delegation, which has now provided consular support to thousands of British Hajjis.
The delegation will be located at the Elaf Kinda Hotel, Makkah. You can find contact details and information on what the delegation can and can't do in our Hajj travel advice and 2012 Hajj information leaflets.
The majority of cases that the delegation handled last year were replacing travel documents. Pilgrims should ensure they look after personal belongings and should take particular care with travel documents, tickets and other valuables.
"We understand how deeply important the Hajj is to the Muslim community and I have been taking a keen interest in preparations for the Hajj Consular Delegation," said Mark Simmonds, Foreign Office Minister responsible for Consular Services.
"We are absolutely committed to providing appropriate Consular services to British Pilgrims during Hajj through having consular officers on the ground in Makkah and Jeddah. Last year we provided a wide range of consular support, including replacing emergency travel documentation and supporting British pilgrims who required urgent medical assistance.
"Saudi Arabia provides excellent facilities and services to all pilgrims and I would like to thank Saudi Arabia for everything it does for British pilgrims on Hajj.
"Effective preparation by pilgrims - such as ensuring they have appropriate travel insurance and carry copies of their passports and other important documentation - is key to ensuring a safe and trouble-free Hajj. I hope that all those undertaking Hajj this year will have a peaceful, successful and rewarding pilgrimage."
Published 19 October 2012