Press release
Four thousand more teachers in England than last year
Information on increasing teacher numbers and teaching vacancies, which are at their lowest rate since 2005.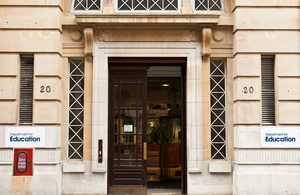 New statistics published today show that the number of teachers in academies and maintained schools in England is increasing.
The Department for Education figures reveal that as of November 2012, there were 442,000 teachers - 4,000 up on November 2011. That is 7,800 higher than in 2005, and 36,200 higher than in 2000.
Just over 121,000 of the 442,000 teachers in England were in academy schools (up from 79,300), demonstrating the increase in the number of heads and governors choosing to take advantage of academy freedoms.
The figures also show that the teacher vacancy rate remains very low at just 0.1% - remaining at its lowest level since 2005. There were just 440 vacancies for full-time teachers. The low rate is the same between academies and LA schools, and between primaries and secondaries.
The number of highly qualified teachers has also risen, including in the key subjects of English, maths and science. Some 96% of teachers hold qualifications at degree level or above:
77% of maths teachers in years 7 to 13 hold a relevant post-A level qualification - compared to 73% the year before
80% of English teachers - 78% the year before
92% of science teachers - 91% the year before
The Department for Education has reformed Initial Teacher Training to make it rigorous in providing the biggest bursaries for priority subjects including maths, physics and modern languages. The Department has also invested £4 million to help existing teachers develop their skills and is cutting bureaucracy to allow them to spend more time in the classroom and less on unnecessary paperwork.
A Department for Education spokesman said:
Our reforms are freeing up teachers so they can concentrate on what they do best, and what they sign up to do - teach. It is extremely encouraging to see there are more teachers joining - or in some cases deciding to re-join, what is a high-status, attractive profession. Increasingly, the teaching workforce is highly skilled - with 96% of teachers now qualified to degree level or above. More top graduates and career changers than ever before are coming into teaching - and teacher vacancy rates are now at their lowest since 2005.
DfE enquiries
Central newsdesk 020 7783 8300
General enquiries 0370 000 2288
Published 30 April 2013