Press release
Four million pounds of funding to improve diagnosis of diseases
The Department of Health has today announced four million pounds to improve the way diseases are diagnosed, benefiting patient care.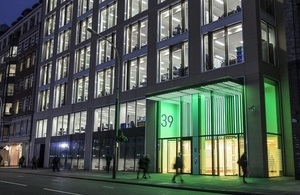 Every year over 16 million diagnostic tests are carried out across the NHS. This money will fund research that looks at the way a number of different diseases are diagnosed, so patients can access the best available treatments more quickly.
The National Institute for Health Research (NIHR) will share the funding across four NHS organisations in London, Leeds, Newcastle and Oxford. These places will become national centres of expertise called NIHR Diagnostic Evidence Co-operatives.
Faster and better diagnosis can be lifesaving for patients and the use of clinical research to improve the diagnosis and treatment of patients is a priority for the government. These centres will promote research into medical tests used to diagnose things like cancer, liver and respiratory diseases, so patients across the NHS can benefit from advances in technology.
NIHR Diagnostic Evidence Co-operatives will bring together a wide range of experts and specialists from across the NHS and industry, including clinicians and other healthcare professionals, patients, NHS commissioners and researchers and will investigate a number of different clinical areas:
London:
Imperial College Healthcare NHS Trust will be looking at cancer, cardiovascular, respiratory and infectious diseases, and metabolic medicine
Leeds:
Leeds Teaching Hospitals NHS Trust will be exploring liver, musculoskeletal and renal diseases
Newcastle:
Newcastle upon Tyne Hospitals NHS Trust will be testing the effectiveness of new diagnostics tests for cancer, cardiovascular, liver, musculoskeletal and respiratory diseases, stroke, genetics, infections, and transplantation
Oxford:
Oxford Health NHS Foundation Trust will be identifying and evaluating diagnostic tests which will bring the newest medical technology across a range of common diseases like diabetes, into primary care, including GP services.
This announcement supports the Government's Strategy for UK Life Sciences, which aims to provide a better environment for life sciences, improve the lives of patients and contribute to the UK's economic growth.
Health Minister Lord Howe said:
We know that faster and better diagnosis of diseases can be lifesaving and can ensure that patients get the most appropriate treatments more quickly.

The new Diagnostic Evidence Co-operatives, funded by the National Institute for Health Research, will generate evidence that has the potential to improve the way patients are diagnosed and treated, and help the NHS use resources more effectively.

The UK is already a leading force in health research, inventing new technologies to improve the lives and healthcare of patients. This funding will provide researchers with the support needed to ensure that this country continues to be at the forefront of healthcare research.
Carla Deakin, Chairman of British In-Vitro Diagnostic Association (BIVDA) said:
We are delighted by the creation of the Diagnostic Evidence Co-operatives. They will play a significant role in helping introduce new and exciting diagnostic tests into the NHS, improving the way patients are diagnosed and treated.
Background information
For media enquiries, please contact Alexander MacDonald in the Department of Health Press Office on 0207 210 5478
An independent selection panel, with representatives from across the health and research sectors, reviewed applications and made the final decisions on where to allocate the funding.
For more information on the final recipients of the funding, and their areas of expertise please contact the Department of Health Press office.
About the NIHR:
The National Institute for Health Research provides the framework through which the research staff and research infrastructure of the NHS in England is positioned, maintained and managed as a national research facility. The NIHR provides the NHS with the support and infrastructure it needs to conduct first-class research funded by the Government and its partners alongside high-quality patient care, education and training. Its aim is to support outstanding individuals (both leaders and collaborators), working in world class facilities (both NHS and university), conducting leading edge research focused on the needs of patients.
Published 29 May 2013