World news story
Four awarded Chevening Scholars in Jamaica and Bahamas
Three Jamaicans and one Bahamian have been awarded the 2014/2015 Chevening Scholarships to pursue post-graduate studies in the UK.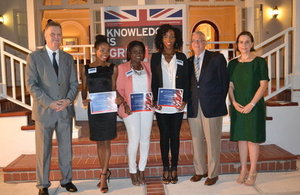 The 2014 scholars are;
Alecia Maragh
Alecia is the Regional Programme Coordinator for the student ambassadors/young alumni programme at the University of the West Indies. She was a participant in the Japan Exchange and Teaching Programme and a Global Teacher on the NGO Peace Boat's 78th Journey around the world. Alecia is an I Believe Initiative Ambassador and a recipient of the Prime Minister's Youth Award (Youth in Service) and the Governor General's Youth Award (Leadership).
Alecia completed her undergraduate studies in International Relations and Political Science (Hons) at the University of the West Indies as a recipient of the UWI Open Scholarship. She was the Jamaican delegate at the 2014 UNECOSOC Global Youth Forum, New York and the 2014 Hope XXL International Summit in the Netherlands where the Post-2015 Development Agenda and Human Rights were discussed. Alecia aims to advocate for vulnerable groups without a voice. She will be pursuing her postgraduate studies in Human Rights at the London School of Economics.
Donna Miller
Donna is a practicing Urban and Regional Planner, with over 7 years experience working in the planning and development field. She is currently employed by the Urban Development Corporation (UDC). She played an integral role in completing the most recent Downtown Kingston and Port Royal redevelopment plan. She was also a part of the planning team that was successful in completing the Development Orders for the parishes of Portland and Trelawny. Notwithstanding her experiences over the years, Donna has developed a keen interest in climate change/disaster management, which propelled her to become a volunteer with the National Emergency Response Geographic Information Systems Team (NERGIST).
She will be pursuing a Master of Science degree in Climate Change and Development at the University of Reading. She believes that a more proactive rather than reactive approach to the phenomenon of climate change is needed at all levels. Upon completion she intends to, among other initiatives assist in incorporating climate change prevention and mitigation measures in the planning and development application processes in Jamaica. The Chevening scholarship will ably assist her in achieving her long term career goal of completing doctoral studies in the field of sustainable development.
Anika Gray
Since being called to the Jamaican Bar in November, 2011, Anika has been actively involved in a number of projects dealing directly with discriminatory laws and practices, which not only violate the fundamental human rights of those in the LGBT community but also contribute to the high incidence of HIV and AIDS amongst MSMs (Men Who Have Sex with Men). As an Attorney-at-law and Legal Analyst for AIDS-Free World, she has represented members of the LGBT community in claims brought against 3 Caribbean governments.
Her main reason for pursuing a Master in Public Policy at the University of Oxford, is to deepen her understanding of the policy making process and the various tools that can be used to influence policy changes. She is quite eager to use her Oxford training to implement policies in the following areas: LGBT rights, sexual violence, extra-judicial killings, climate change and renewable energy.
Wilfred Adderley II
Wilfred's tertiary education led him to study at Northern Caribbean University in Mandeville, Jamaica where he started his degree in Music Education, Andrews University in Berrien Springs, Michigan and the College e Università Villa Aurora in Florence, Italy. Wilfred holds a Bachelor's degree in Education and Music, with Honours, and a Master's Degree in International Relations, Communication and Development, Magna Cum Laude, both from Andrews University. He believes that in order for a society to reach its full potential of development, the people of that society must invest in education. It is this belief that has led him to seek a career in International Relations with a goal of carrying the platform for positive social and economic growth and development for his country.
At present, Wilfred works for the Ministry of Foreign Affairs and Immigration in his country and is an officer in the International Relations Division. He has carriage over matters and projects that relate to Latin America and the Caribbean and the Organization of American States. He enjoys his career and would wish to advance further in the world of foreign relations and diplomacy by one day becoming an Ambassador for his country to an International Organisation. Wilfred will be participating in the Foreign Service Programme at Oxford University beginning this fall.
"The key to success in the world of diplomacy is the establishment of relationships between countries that share an interest in development and the further advancement of their peoples." Wilfred T. Adderley II, Chevening Scholar 2014 - 2015, the Commonwealth of The Bahamas.
What is the Chevening Scholarship?
The Chevening Scholarships scheme is the global scholarship programme of the British government. The Scholarships are awarded to exceptional individuals with leadership potential and they enable recipients to study one-year Masters courses in a range of subjects at UK universities. The Scholarships are funded by the Foreign and Commonwealth Office and aim to support UK foreign policy priorities by creating lasting positive relationships with future leaders, influencers and decision makers. The Chevening programme has, over 30 years, provided more than 40,000 Scholarships at Higher Education Institutions in the UK for postgraduate students or researchers from countries across the world. Chevening scholarships are prestigious and sought after awards aimed at extremely capable individuals who have already made an impact and are motivated to pursue a career that will take them to a position of leadership within their own country or region.
The application period for scholarships is open until 15 November.
Get more information online at www.Chevening.org
Published 18 September 2014