News story
Four arrested in sham marriage operation
Four people were arrested at a wedding in Oxford this week as part of a UK Border Agency sham marriage investigation.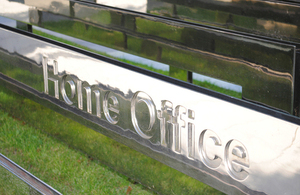 Acting on intelligence, officers from the agency's Thames Valley immigration crime team stopped the wedding at the Oxford Register Office at around midday on Tuesday.
The would-be bride, a 19-year-old Polish national, and her groom, a 30-year-old Indian national, were both arrested on suspicion of perjury.
Two witnesses were also arrested on suspicion of assisting illegal immigration. All four were questioned by police and immigration officers.
 
Terry Gibbs, head of the UK Border Agency's Oxfordshire local immigration team, said, 'We are working closely with registrars to identify marriages that may not be genuine, and where we suspect that may be the case we will investigate.
'We are committed to striking at the heart of illegal immigration and tackling those who break the rules.'
See more photos on our Flickr photostream below.
Published 9 June 2010