Press release
Foundation repairs for A590 at Lindal, Cumbria
Work to repair the foundations of the carriageway along a section of the A590 at Lindal in Furness in Cumbria will get underway next month.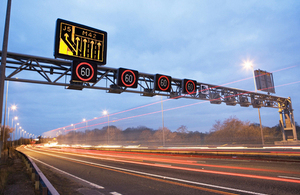 The £272,000 Highways Agency scheme will be taking place along a short section of the route opposite a bus stop layby between London Road junction and Low Farm Close.
Temporary bus stops are being provided for the duration of the work between Monday 13 October and Sunday 23 November.
Highways Agency project sponsor Peter Gee said:
This repair is vital to extend the life of the carriageway and once finished will provide safer, smoother journeys for users of the A590. Given the nature of the work we will have to close a lane and operate temporary traffic lights and would like to thank drivers in advance for their patience.
All the work will be done during the day between 8am and 9pm with the use of temporary traffic lights around the clock to allow vehicles to pass the roadworks safely.
At times, during the quieter parts of the day, drivers may need to be taken past the roadworks site in 10mph convoys led by a contractor's vehicle. Otherwise a 40mph speed limit will be in place.
During peak periods the temporary traffic lights will be staffed to ensure drivers are not held at the temporary traffic lights needlessly.
General enquiries
Members of the public should contact the Highways Agency Information Line on 0300 123 5000.
Media enquiries
Journalists should contact the Highways Agency press office on 0844 693 1448 and use the menu to speak to the most appropriate press officer.
Published 24 September 2014