Press release
Former private school teacher jailed for longer for sexual abuse
A former private boarding school teacher who sexually abused 4 of his pupils has had his sentence increased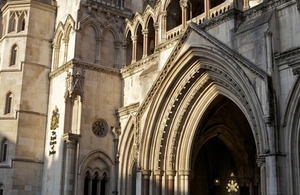 A former private boarding school teacher who sexually abused 4 of his pupils has had his sentence increased after the Solicitor General, Robert Buckland QC MP, appealed it for being too low.
Peter Burr, now aged 73, indecently assaulted the boys aged between 11 and 14 at Christ's Hospital School in West Sussex between 1969 and 1973.
The pupils at the school were largely vulnerable young boys from disadvantaged backgrounds or had gained a place at the school following the death of a family member and had been separated from their families.
Burr pleaded guilty to 9 counts of indecently assaulting the boys and was originally sentenced to 4 years imprisonment. The Court of Appeal has today increased his sentence to 6 years 7 months in prison.
Speaking after the hearing, the Solicitor General said:
Burr betrayed his position of trust in the most despicable way possible.
I am pleased the Court of Appeal has increased the sentence. I trust this sends a clear message that justice will be served no matter how long ago the offences took place. I hope this helps the victims to get some closure.
Published 28 March 2018