World news story
Former British Consulate building in Shimonoseki re-opens to the public
British Chargé d'Affaires Julia Longbottom visits Shimonoseki City to give university talk on gender equality and attend former British Consulate building re-opening ceremony.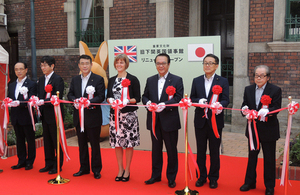 On 18 July the former British Consulate building officially re-opened its doors to the public after five and a half years of renovations. At the re-opening ceremony, attended by Mayor of Shimonoseki Tomoaki Nakao, city officials and local residents, British Chargé d'Affaires Julia Longbottom gave a congratulatory message in which she wished that the former Consulate building would contribute to revitalising the area, as well as maintaining the long-standing and friendly relations between the UK and the area for many years to come. In celebration of this long UK-Japan history, the former Consulate building is from now until the end of August 2014 hosting a special photo exhibition, previously on public display at the British Embassy Tokyo in April. Offering visitors the chance to step back in time, the exhibition showcases rare historical photographs of British Embassy buildings before and after they were damaged and reconstructed following the Great Kanto Earthquake of 1923.
During Julia Longbottom's visit, she also travelled to Shimonoseki City University to give a talk to students on the theme of "Women's Economic Participation – a comparison between the UK and Japan". She began her talk by noting her excitement at the possibility of rapid and long overdue change promised by Prime Minister Abe's Womenomics agenda. Explaining the UK's employment system, she shared her own experience of 28 years working with the Foreign & Commonwealth Office and raising three children through a team effort with her husband and making the most of different working styles offered by their employers, including job-shadowing and flexible working such as working from home.
Speaking to a full audience of some 150 students and local residents, Julia Longbottom closed her talk by emphasising,
I believe that increasing the number of women in the workforce – in the UK and Japan – is an issue that both men and women should care about. It is not a question of competition but of using all of the talent available to any organisations, government or economy and of achieving a better deal for everyone in the workplace.
Related links:
Former British Consulate building website
The British Embassy in Japan: A photographic journey through history
Published 25 July 2014