Forestry Commission champions rehabilitation work
David West, FC's Development Manager in the South West, talks about the award-winning Dartmoor Prison Rehabilitation Project. In November …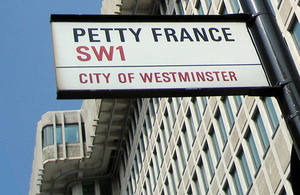 David West, FC's Development Manager in the South West, talks about the award-winning Dartmoor Prison Rehabilitation Project.
In November our own work supervisor Mark Jefferies was chosen as overall winner in the 'Excellence in Service Delivery' category at the 2011 Civil Service Diversity and Equality Awards for his work with offenders.
For Mark to receive the award was particularly pertinent as the Dartmoor Rehabilitation Project has evolved and been delivered by the small team of four professional foresters who manage over five and a half thousand acres of forest on and around Dartmoor. It is a local project which now 'punches well above its weight.'
Back in January 2004, HMP Dartmoor approached the FC to see if we would consider hosting some rural skills training for offenders. The combination of offenders working with chainsaws in a small team, in difficult terrain and in woodlands open to the public did initially cause us some concern! However the local team demonstrated just how well this project could benefit both the FC and HMP Dartmoor.
Later in the same year, HMP Dartmoor secured approval to provide a resettlement programme with selected offenders able to undertake training and work experience away from the prison (Release On Temporary Licence). The FC was the first employer to become involved in this programme with HMP Dartmoor and we continue to this day.
With financial support from Dartmoor National Park Authority and the South West Regional Development Agency we have been able to deliver an innovative programme combining of industry, relevant practical training and full-time mentoring. The project spans both the last year of sentence and release, and has been hugely successful in helping to secure careers for our ex-offenders. To date 15 out of the 25 offenders (60%) who have completed the programme are now in full time employment with a range of jobs including forestry, landscaping, tree surgery, gardening, horticulture, fishing and waste management.
The Dartmoor Rehabilitation Project has not only changed lives it has also enable us to carry out major habitat improvements in the forest including opening up over 8000 metres of streamside corridors. In addition to the Dartmoor FC team, the resettlement staff at HMP Dartmoor have been a crucial component to the success of this programme. We remain keen to develop this project more widely.
David West, Development Manager at the Forestry Commission
Visit the Foresty Commission website
Published 17 January 2012