News story
Foreign waste is collected from Dounreay
Foreign reactor operators who sent their spent fuel to Dounreay in the 1990s for reprocessing have begun taking back their waste.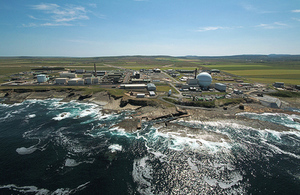 The first of 123 drums containing waste from the BR2 research reactor at Mol, Belgium, have arrived safely.
Belgian authorities are planning a further 20 transports to complete the repatriation of all 123 drums.
The operators of BR2, which produces isotopes for nuclear medicine, sent 240 spent fuel elements to Dounreay in the 1990s
Under a contract between SCK/CEN and the UK Atomic Energy Authority, the then site operator, the fuel was dissolved and the re-usable uranium separated from the waste fission products and turned into new fuel. The waste liquor was solidified in cement inside 500-litre stainless steel drums.
UK national policy requires waste to be repatriated within 25 years of its reprocessing and the Belgian authorities have become the first to collect their waste from the site.
Dounreay holds approximately 500 drums of radioactive waste from reprocessing contracts that the UK Atomic Energy Authority signed with reactor operators in Germany, Australia and the Netherlands as well as Belgium. These are also the subject of return-of-waste obligations.
The Nuclear Decommissioning Authority, which inherited Dounreay from the UK Atomic Energy Authority in 2005, is in discussion through its subsidiary INS with other operators about the return of their waste.
Earlier this year, the Scottish and UK governments agreed in principle to allow waste substitution after one of the operators requested that its waste being returned as glass instead of cement. For more information about the transports
Published 4 September 2012