Foreign Secretary's Remembrance wreath
On Sunday 11 November the Foreign Secretary will lay a wreath at the Cenotaph in London as part of the National Service of Remembrance.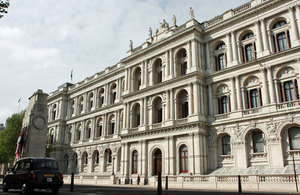 The service in Whitehall, London, is a unique expression of national homage devoted to the remembrance of those who have given their lives in war. High Commissioners from Commonwealth countries also attend the ceremony and lay wreaths at the Cenotaph.
The wreath that the Foreign Secretary lays at the Cenotaph represents the UK's Overseas Territories, and is made each year by the Royal Botanic Gardens, Kew.
Collections Horticulturist Carlos Magdalena has worked at Kew Gardens for over 10 years. He's been making the Foreign Secretary's wreath for seven years.
This year's wreath will boast 18 different types of plant and flower from 12 different Overseas Territories. Here Carlos cuts some Gibraltar Olive.
Inside the Palm House at Kew Gardens, Carlos cuts some Parrots Plantain from the British Virgin Islands.
Bermuda Juniper is cut ready to be added to the base. Carlos will make two identical wreaths. One is transported to the Foreign Office in King Charles Street on Saturday morning.
The second acts as a reserve in case the first gets damaged or if any of the more delicate flowers wilt before Sunday. If not required, the spare wreath is laid at the War Memorial at Kew Gardens.
Sponge is fixed to the plastic base and is soaked in water for 30mins. Two additional pieces of sponge are then added to the top and bottom to provide support for the more delicate flowers that are added later.
Each sprig of Bermuda Juniper is individually trimmed and then carefully planted into the sponge base.
After six hours, the base of both wreaths are complete.
On Friday morning the more delicate flowers and plants are cut. These include: Slipper Spurge from Anguilla; Snowberry from Bermuda; Beach Morning Glory from British Indian Ocean Territory; Croton from Pitcairn, Henderson, Ducie and Oeno Islands; Old Father live-for-ever from St Helena and Tussock grass from the Falkland Islands.
These flowers and plants are then carefully added to the wreath. There is no set design or pattern, every year a different and unique wreath is created. Once finished, the wreath can weight around 3-4KG.
After a day and a half of work, the Foreign Secretary's wreath is almost complete.
Read about how the Foreign Office and its embassies, high commissions and missions overseas will be marking Remembrance Day.
Published 9 November 2012