Foreign Secretary's Ramadan message
As Ramadan begins, Foreign Secretary William Hague has recorded a video message.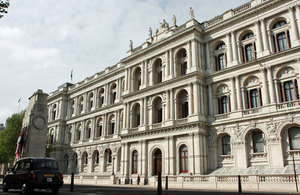 In the video message, the Foreign Secretary said:
"As-Salaam Alaikum. As the Islamic holy month of Ramadan begins I want to send as British Foreign Secretary good wishes to Muslims across the globe.
This is a very important time in the calendar. It's a time of fasting, of prayer, of introspection, of the gathering of families and I'm very conscious as a British politician of the huge contribution that so many Muslims in Britain make across the whole breadth of our society and that is something of course that we want to see even more of in the future.
So it's a very, very important time of year celebrating what Ramadan is about, important values of selflessness, of charity, of compassion, of looking after people less fortunate than ourselves. And these are values of course that unite Muslims and non Muslims alike.
So at this special time of year I say to you, your friends and your relatives, Ramadan Mubarak."
The Prime Minister David Cameron also gave his Ramadan blessings to all Muslim communities in Britain and around the world. The Prime Minister said:
"I want to send my very best wishes to all the Muslim communities in Britain and around the world as you start this hugely significant month of Ramadan.
I know one of the messages of Ramadan is the importance of charity and the act of giving to those less fortunate than ourselves. That tradition is not just a great Muslim tradition. It's also a great British tradition, something we cherish right across our society, amongst people of every faith and none.
I'm very proud that Britain has been at the forefront of the international response to the terrible floods in Pakistan. And our thoughts are with all those who have suffered in this disaster and their families and friends, especially those here in Britain.
At this time of prayer and reflection, I hope that your prayers will be answered, your families and communities strengthened and that this Ramadan may bring you peace, happiness and every blessing."
Across the world UK missions are highlighting Ramadan in their host countries. The British Embassy in Morocco will be updating its website with Ramadan stories from its members of staff throughout the month and in Jakarta, British Ambassador Martin Hatfull has recorded a Ramadan message to all Muslims in Indonesia.
John Jenkins, British Ambassador to Iraq has blogged his Ramadan wishes, stating: '…as well as being a period for reflection and purification, it is also a time for reconciliation and reaching out to others.' Stephen Lillie, Head of Mission at the UK Embassy in Manila has also written about how Ramadan is observed by the significant Muslim population in the Philippines on his blog.
Published 10 August 2010