Foreign Secretary's Eid message
Foreign Secretary William Hague sends warmest wishes to Muslims across the world ahead of the festival of Eid.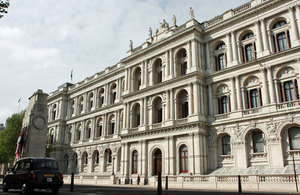 He said:
"I would like to convey my best wishes to all Muslims across the globe as you and your families gather to celebrate the festival of Eid.
British Muslims will join millions around the world in celebrating Eid at the end of this special period of reflection, contemplation and consideration of others. This year we are also celebrating the London Olympic Games which have been a great source of inspiration for so many people. I am very grateful for the important contribution of British Muslims in making the London Games such a success.
During this special time of reflection, my thoughts are with the victims of the terrible earthquakes in Iran. I continue to hope for peace, security and stability to be restored in Syria.
With these reflections, on this very important day of celebration, I send my very best and wish you Eid Mubarak."
Published 17 August 2012