Press release
Foreign Secretary's deep concern over Egypt death sentences
Foreign Secretary William Hague expresses his concern at Egyptian Court's confirmation of 183 death sentences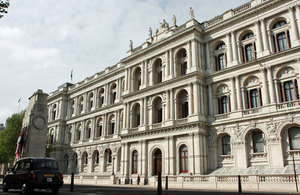 Foreign Secretary William Hague said:
I am deeply concerned by reports that an Egyptian court has confirmed death sentences for 183 people. The United Kingdom opposes the death penalty in all circumstances as a matter of principle. These sentences damage the reputation of Egypt's judicial system and undermine international confidence in the prospects for political stability in Egypt.

I urge the Egyptian authorities to review these sentences and to ensure that human and legal rights are fully upheld in this case, and in the country as a whole.
Further information
Follow the Foreign Secretary on twitter @WilliamJHague
Follow the Foreign Office on twitter @foreignoffice
Follow the Foreign Office on facebook and Google+
Published 21 June 2014