Foreign Secretary Written Ministerial Statement on Syria
Foreign Secretary William Hague has updated parliament on Syria and has urged opposition groups to unite around a vision for a democratic and stable Syria.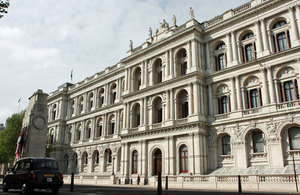 I would like to provide the House with an update on Syria since my last statement (Official Record 18 October 2012: Column 34WS).
This week talks are taking place in Doha between members of Syrian opposition groups. The United Kingdom, France, Turkey, the United States and other international partners will attend the meeting on 8th November.
Our objective is to encourage Syria's opposition groups to unite around a vision for a democratic and stable Syria. This is necessary to offer the Syrian people a credible alternative to the Assad regime and to achieve an inclusive political transition that ends the appalling bloodshed and reflects the will of the Syrian people.
Last year I established the full time and dedicated role of Special Representative to the Syrian Opposition to coordinate our diplomatic contacts with opposition figures. Jon Wilks, the current incumbent, is attending the meeting in Doha.
We have taken gradual steps to establish and deepen contacts with new actors emerging in Syria. These include political opposition groups, local coordination groups working to deliver services in areas no longer under the full control of the regime, and human rights activists and civil society groups struggling for a free future for the country.
These contacts are essential if we are to deliver practical support to help save lives, to detect and seek to deter human rights violations and abuses, to increase the prospect of a political transition and to prepare the support Syria will need to recover from conflict. These efforts are particularly important in the absence of a British embassy in Syria. We discuss our work frequently with the Joint UN and Arab League Special Representative for Syria with the US, our regional allies and our European partners.
As well as increasing our development assistance to the Syrian people we have gradually increased our efforts to build the capacity and coordination of unarmed opposition groups inside Syria. This includes the provision of technical, non-lethal equipment such as radios and emergency power generators, as well as training journalists and civil society groups on human rights.
Earlier this year I instructed FCO officials to begin to make contacts outside Syria with political representatives of armed Syrian opposition groups. I informed the House of this on 3 September (Official Report: Vol. 549, Col. 54).
Such groups are playing an increasingly influential role within Syria as the conflict worsens. I have therefore now authorised my officials to have direct contact with an even wider range of representatives including military figures in the armed opposition. This will help us to understand better the situation in Syria and the relationship between political and armed opposition groups so we can properly support political transition.
All contacts will take place outside Syria, and then only in environments we deem suitably secure. Each potential contact will be explored cautiously and on a case-by-case basis. Through continuous assessment, we will make every effort to ensure that FCO officials engage only with legitimate representatives of the opposition. We will continue to adhere to our clearly stated policy of only supplying non-lethal support to the unarmed opposition. All support is in compliance with both the EU arms embargo and our own stringent export licensing laws. In all contacts my officials will stress the importance of respecting human rights and international human rights norms, rejecting extremism and terrorism, and working towards peaceful political transition. British contacts with military elements of the Syrian armed opposition will be limited to a political dialogue including working towards and inclusive political transition.
The decision to engage with military representatives of the armed opposition in a political dialogue supports our efforts to achieve a peaceful and sustained political solution to the crisis as set out in the Geneva Communique, and avoid wider conflict.
I will keep the House informed of further developments relating to Syria.
Published 7 November 2012