News story
Foreign Secretary welcomes FAC report on Government's EU reform agenda
The FCO today published its response to the Foreign Affairs Committee reports on Government policy on the future of Europe.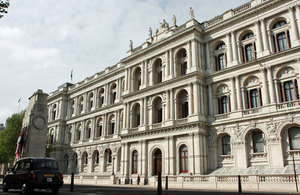 In June 2013, the House of Commons Foreign Affairs Committee published two reports about the Government's policy on the future of the EU. Today the Government has published its response to the reports: The future of the European Union: UK Government policy and The UK staff presence in the EU institutions.
Speaking following the publication of the Government's response, the Foreign Secretary William Hague said:
I welcome the FAC's reports and endorsement of the Government's ambitious agenda for EU reform. This Government is clear that membership of a reformed, flexible and competitive EU is in the UK's national interest.

We have already made progress, from the first ever cut to the EU's budget and getting Britain out of Eurozone bailouts to the launch of landmark negotiations on an EU-US trade deal and a deal to decentralize fisheries. There is more to be done on increasing the number of Brits working in the EU, but this Government has gripped a problem that has been ignored for too long.

I welcome the Committee's support as the Government continues to work closely with our EU partners on such reforms.
Further information
Read the Government Response to the House of Commons Foreign Affairs Committee Report HC 87 of Session 2013-14
Read the Government Response to the House of Commons Foreign Affairs Committee Report HC 219 of Session 2013-14
Follow the Foreign Secretary on twitter @WilliamJHague
Follow the Foreign Office on twitter @foreignoffice
Follow the Foreign Office on facebook and Google+
Published 3 September 2013