News story
Foreign Secretary welcomes crucial work of the Commonwealth Eminent Persons Group
Foreign Secretary William Hague met with members of the Commonwealth Eminent Persons Group, currently tasked with strengthening the Commonwealth and its institutions.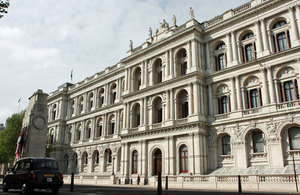 The group, chaired by Tun Abdullah Ahmad Badawi from Malaysia, and whose members include Sir Malcolm Rifkind from the UK, were holding their final meeting on Tuesday 22 March at Marlborough House in London.
Speaking after the meeting, the Foreign Secretary said:
"I warmly welcome the valuable work of the Eminent Persons Group over the past year and their candid assessment of what the Commonwealth needs to do to help the organisation realise its potential and put it on a firmer footing for the future.
As I said in my speech on 'the Commonwealth in a Networked World' earlier this year in Sydney, I see a reinvigorated Commonwealth as an important focus for promoting democratic values, development and prosperity. I believe that the work of the Eminent Persons Group is crucial to help the Commonwealth achieve this.
I look forward to the publication of the Eminent Persons Group's report and subsequent discussion of their recommendations at the Commonwealth Heads of Government Meeting in Perth in October."
Published 22 March 2011