World news story
Foreign Secretary visits UK-supported mobile forensic lab in Lahore
Foreign Secretary visits UK-supported mobile forensic lab in Lahore to witness British assistance for Pakistani authorities' fight against terrorism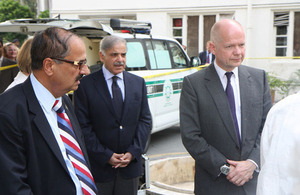 Today, the British Foreign Secretary William Hague, accompanied by Punjab Chief Minister Shahbaz Sharif, visited a world-class mobile forensics laboratory in Lahore.
The mobile laboratory is one of 18 vehicles operated from the Punjab Forensic Science Agency (PFSA) base. UK forensics specialists are sharing their expertise with the PSFA through an EU-funded mentoring programme. The PSFA services all of the Punjab's forensic needs, from crime scene investigation to testing forged cheques for banks.
After being shown around the mobile laboratory by the Head of the PSFA, Dr Mohammad Ashraf Tahir, the Foreign Secretary said:
The UK is committed to working jointly with Pakistan to combat the shared threat of terrorism and violent extremism. Increasing the rate of successful terrorist prosecutions forms a central element of UK-Pakistan cooperation. Strengthening forensic capability, through increased understanding of forensic evidence at both the crime scene and the court room, forms one important strand of this work.
This project forms part of the UK-led CAPRI programme, with financial support from the EU to build forensic capability in the Punjab Forensic Science Agency. CAPRI is a multi-million pound UK initiative working together with the Pakistani authorities, and other internationals, to build capability to successfully prosecute terrorists
Further Information
For latest updates and photos on the British Foreign Secretary's visit, please visit the following pages: *UK in Pakistan website *UK in Pakistan Flickr gallery *UK in Pakistan Twitter page *UK in Pakistan Facebook page
Contact:
Press Attaché, British High Commission, Islamabad; tel. 051 201 2884
Published 18 July 2013