World news story
Foreign Secretary visits South Korea
William Hague visits Seoul in 60th anniversary year of Korean Armistice to deepen political and economic ties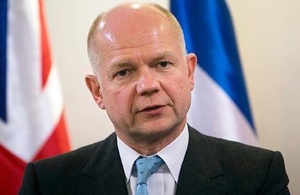 Foreign Secretary William Hague today arrived in South Korea for the first of two days of meetings with the political and business community. The UK and Korea are marking the 130th anniversary of diplomatic relations, and Her Majesty the Queen is due to welcome President Park to London on a formal State Visit early next month.
Mr Hague will be in Seoul on Monday and Thursday. He will hold talks with President Park and, separately, with South Korean Foreign Minister Yun Byung-se. Discussions are likely to focus on the UK's support for President Park's efforts to promote regional peace and security, cooperation on issues of global concern, including the DPRK, Syria and the Arab Spring, and our continued partnership on combating sexual violence in conflict.
The Foreign Secretary will also address the British Chamber of Commerce and Seoul Financial Forum. He will underline the opportunities to grow further a bilateral trade relationship that was worth £7.7bn in goods alone in 2012. He will also praise UK-Korea collaboration in third countries and call upon business to explore new and expanded partnerships across a range of sectors.
Speaking after arriving in Seoul, Mr Hague said:
I am delighted to be visiting South Korea, particularly on the 60th anniversary of the end of the Korean War. The country's remarkable transformation from post-conflict poverty to one of the world's most vibrant democracies and economies is a model for other countries all over the world.

Korea is a long-standing political friend and ally of the UK. In foreign policy, I am pleased to have worked with Foreign Minister Yun to present the recent Declaration on Preventing Sexual Violence in Conflict at the United Nations. The United Kingdom supports President Park's efforts towards building trust and lasting peace with the DPRK. Our political and security cooperation extends far beyond the Korean Peninsula and this week's visit affords us an opportunity to strengthen further that work.

We also enjoy an excellent trade relationship with Korea. South Korea was the single largest growth market for UK exports last year and over 200 Korean companies have already set up in the UK. I want to ensure that more Korean companies are aware of the depth and scale of opportunities for investment in the United Kingdom. I also want to support the expansion of British business in Korean which creates immense opportunity for increased prosperity in both our countries.
In addition to his bilateral engagements, the Foreign Secretary will lead the UK delegation to the Seoul Conference on Cyberspace.
Published 14 October 2013