World news story
Foreign Secretary visits BT Japan
Foreign Secretary Philip Hammond visited UK telecommunications services company BT at their Tokyo office today, meeting BT Japan President Haruno Yoshida and CTO Phillip Morris to discuss the cyber challenges facing the Tokyo 2020 Olympic and Paralympic Games, and the lessons to be learned from London 2012.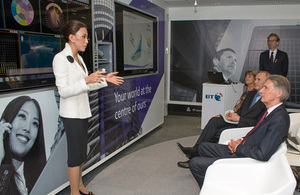 BT's advanced communications and cyber-security services were central to the successful delivery of London 2012 as the most secure and 'connected' Games in history. With the growth of the Internet of Things (IoT) blurring the line between cyber and physical space, cyber threats have since evolved, but companies like BT are likewise evolving their security technology to remain one step ahead.
Starting from the idea that "If you can't see it, you can't defend against it", BT developed Assure Analytics, a "revolutionary way to gain insight into security metrics by consolidating millions of data points into simple and intuitive graphical presentations". The software uses powerful artificial intelligence technology to analyse data and organise it into shapes, graphs and maps. This allows human beings to easily identify threats and neutralise them before they cause too much damage.
BT Japan demonstrated Assure Analytics for the Foreign Secretary who commented:
Cyber-attack is the number one threat to the security of Tokyo 2020. I was fascinated to see BT's Assure Analytics software which was such a powerful tool in identifying and stemming cyber attacks on the Olympics and Paralympics in London in 2012. This is a great example of British technology leading the world, and helping to make it a safer place.
Notes to Editors:
At London 2012, BT logged 2.31 billion security-related events, of which 212 million were classified as potentially malicious. 128 million of them (more than half of all attacks) came on Super Sunday alone. Nevertheless, none escalated to the level of cyber security incidents.

BT is also a sponsor for UK Trade & Investment's year-long Innovation is GREAT Campaign that highlights British technology and innovation. For more information, visit the website at http://www.innovationisgreat-jp.com/.
Published 8 August 2015