World news story
Foreign Secretary strengthens UK ties in Japan
Foreign Secretary William Hague visits Japan to strengthen political and commercial ties; encouraging foreign direct investment and collaboration amid London 2012's legacy and Tokyo 2020's Olympic future.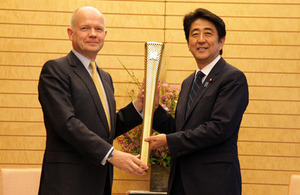 Foreign Secretary William Hague was today in Japan as part of a three nation visit to South Korea, Mongolia and Japan. The visit comes amid the Foreign Secretary's ongoing drive to strengthen and deepen UK ties with the world's major economies outside Europe.
The Foreign Office is working harder than ever to connect the British economy and British-based businesses to opportunities across Asia and Japan is the world's third largest market and the second biggest source of Foreign Direct Investment in the UK.
The Foreign Secretary called on Hakubun Shimomura, Minister for Education, Culture, Sports, Science and Technology (MEXT) and now Japan's Olympics Minister, to congratulate Tokyo on its selection to host the Games in 2020. The two witnessed the signing of a MOU between the Ministry and the British Council, signalling their intention to work together on the training of English language teachers in Japanese Primary, Junior and Senior High schools. The British Council has worked with many other Ministries of Education around the world in similar ways, and today's MOU aims to develop a new training model through which teachers of English can develop and cascade their expertise to other teachers in Japan, eventually reaching every teacher in the country.
The Foreign Secretary then called on Japan's Foreign Minister Fumio Kishida for a strategic discussion of global issues of concern to both Japan and the UK, including security, economic prosperity and our shared values.
The UK and Japanese governments are supporting closer collaboration and joint development between the UK and Japanese defence industries following the signing of the Defence Equipment Cooperation Framework and Information Security Agreement, while UK government and experts are working closely with Japanese colleagues to support the work to manage the decommissioning challenges at the Fukushima Dai-ichi site.
Speaking at a press conference with Foreign Minister Kishida at Japan's Ministry of Foreign Affairs, the Foreign Secretary said:
It is a pleasure to be here in Tokyo for the second annual UK-Japan Strategic Dialogue, with my excellent colleague Foreign Minister Kishida. Japan is a vital ally for the UK, on regional and international security and development, and as the second biggest source of new inward investment in the UK last year. We are bound by common values and sincere friendship between our peoples, and this is a relationship of immense importance to us in the UK government. I am therefore delighted that the UK-Japan relationship is going from strength to strength, which has been reflected in our discussions today.
The Foreign Secretary later met with Prime Minister Shinzo Abe. During the meeting, the Foreign Minister passed a London 2012 torch to Mr Abe as a symbol of UK-Japan cooperation and stated that the UK looks forward to sharing the benefits of its own Olympic experience and to providing expertise and assistance as Tokyo prepares for this historic occasion. During his Asia visit, William Hague also met the President of Mongolia and leaves Japan for South Korea where he will attend a Seoul Conference on cyber security and meet the South Korean President.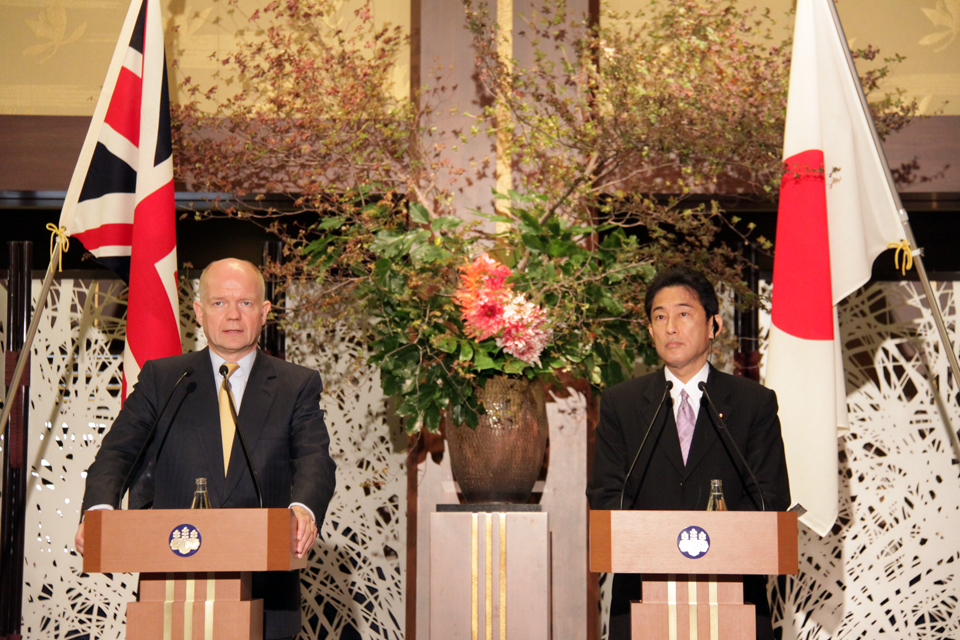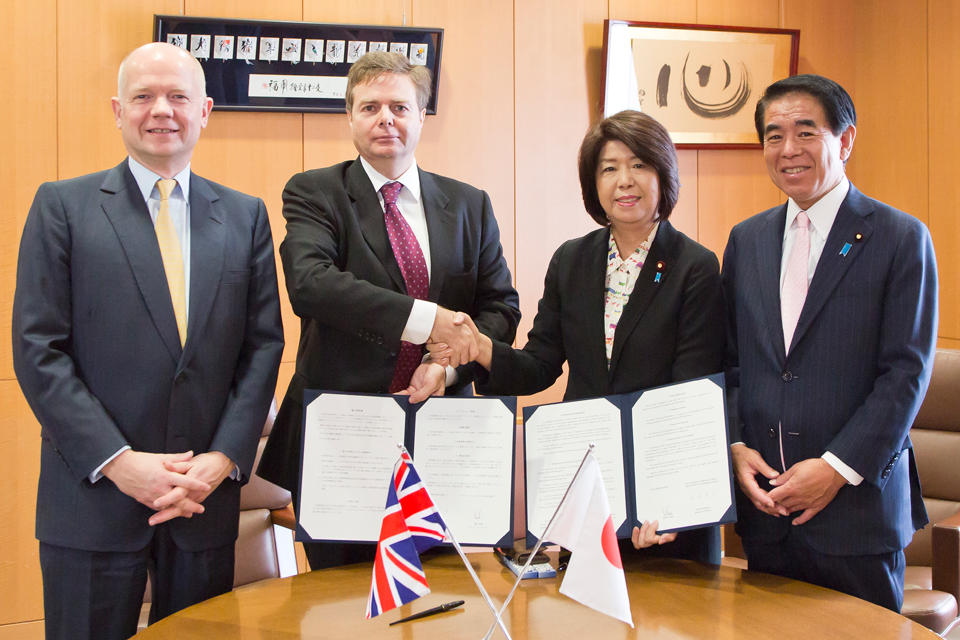 Further information
Follow the Foreign Secretary on twitter @WilliamJHague
Follow the Foreign Office on twitter @foreignoffice
Published 16 October 2013