Foreign Secretary statement to the House of Commons on the Falkland Islands
Foreign Secretary William Hague responds to statements made in South America regarding the Falkland Islands.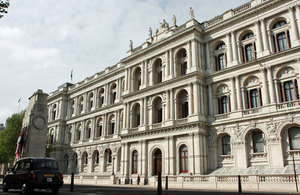 "I would like to update the House on the British Government's response to statements made in South America regarding the Falkland Islands during the Christmas recess.
On 15th December the Government of Uruguay declared that they would deny access to their ports to ships flying the Falklands flag. This was followed five days later by a statement from the summit of the Mercosur group of countries (Argentina, Brazil, Paraguay and Uruguay, with associate members including Chile) that echoed the Uruguayan announcement.
Our response has been justifiably robust. The Uruguayan Ambassador was formally summoned to the FCO and I spoke twice to the Uruguayan Foreign Minister to underline how seriously we regard this development. Our Ambassadors in the region were instructed to call on their host governments to express our strong objection to the Mercosur statement and to assess the practical implications for vessels operating between the Falklands and South America.
We made clear that the decision to close ports to ships flying the Falklands flag has no legal basis, and that it would be unacceptable and unbecoming for any Latin American democracy to collaborate in Argentina's attempts to economically blockade the Falkland Islands. We reiterated our strong support for the rights of the Islanders to determine their political future, and also made clear that any attempts to coerce them through economic or other pressures would be resisted by the British Government. Such actions are inconsistent with the principles of the United Nations Charter and the rights of the Falkland Islands people to trade openly and without hindrance.
Whilst we do not accept that the decision to refuse entry to vessels flying the Falklands flag has any basis in international law, our priority has been to ensure that the trade and commercial links between the Falklands and South America are not compromised by this political declaration. We have had productive and honest discussions with Uruguay, Chile and Brazil. All three countries have said that they have no intention of participating in an economic blockade of the Falkland Islands and that all Falklands-related commercial shipping will continue to enjoy access to their ports, in accordance with domestic and international law, if they are flying the Red Ensign or another national flag when docked.
I hope that others in the region will continue to recognise that differences of opinion over UK sovereignty of the Falkland Islands can not justify collusion in efforts to intimidate an innocent civilian population through economic pressure. The British Government will always ensure that the Falkland Islanders' right to determine their political future is respected.
More broadly, we will continue to strengthen our engagement of Latin America, as I set out in my Canning House speech in November 2010. The UK has considerable political, economic and security interests in the region, with high potential for future economic growth through partnership with Latin America. I am confident that this important agenda is consistent, and indeed mutually reinforcing, with our desire to ensure that the interests and wishes of the Falkland Islanders are protected."
Published 10 January 2012