Foreign Secretary sets out UK foreign policy approach
The Foreign Secretary, William Hague, has given a speech outlining the Coalition Government's vision for UK foreign policy.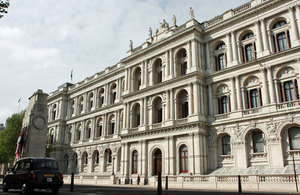 The speech, entitled 'Britain's Foreign Policy in a Networked World', is the first in a series of four by the Foreign Secretary setting out how a distinctive British foreign policy can and should be achieved.
Read the full text of the speech here.
Speaking at the Foreign and Commonwealth Office today, Mr Hague said:
"…we will deliver a distinctive British Foreign policy that extends our global reach and influence, that is agile and energetic in a networked world, that uses diplomacy to secure our prosperity, that builds up significantly strengthened bilateral relations for Britain, that harnesses the appeal of our culture and heritage to promote our values, and that sets out to make the most of the abundant opportunities of the 21st century systematically and for the long-term. So for the first time in years Britain will have a foreign policy that is clear, focused and effective."
Speaking about the need for change, Mr Hague added:
"…the world has changed and if we do not change with it Britain's role is set to decline with all that that means for our influence in world affairs, our national security and our economy."
Published 1 July 2010