Foreign Secretary sets out 'distinctive' foreign policy in Queen's Speech debate
Foreign Secretary William Hague today set out his plans for a 'distinctive British foreign policy' in the Foreign Affairs and Defence debate on the Queen's Speech.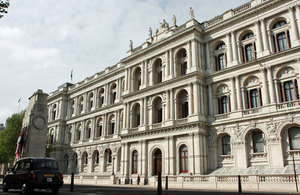 Speaking in the House of Commons the Foreign Secretary said that against a background of economic strain, the deployment of British troops in Afghanistan and the emergence of new economic powers, "there can be no suggestion that it is in our national interest for our role in the world to wither and shrivel away."
The Foreign Secretary outlined the Government's approach to bring "a greater degree of coordination of our foreign, defence and security policy than ever before." The National Security Council, established on 12 May, will be responsible for coordinating foreign policy across government departments.
William Hague made clear that Afghanistan was the Government's top foreign policy priority, stating the objective the British presence was to, "help Afghans reach the point where they can look after their own security without presenting a danger to the rest of the world."
As the Nuclear Non Proliferation Treaty Review Conference reached its final week in New York, the Foreign Secretary announced that the UK would for the first time make public the maximum number of nuclear warhead that the UK will hold in its stockpile.
On Europe the Foreign Secretary set out plans for an EU Bill that would require a referendum for any treaty that transferred powers or competencies from the UK to the EU. The move will create a 'referendum lock' to which only the British public 'hold the key.' He also argued for a 'vigorous and positive' approach' to promote the UK's interests in the EU, concentrating efforts on Europe's global competitiveness, tackling climate change and on global poverty.
The Foreign Secretary's wide-ranging speech also included renewing engagement with the Middle East, a call for urgent progress on a two state solution to the Israeli-Palestine conflict, greater engagement with emerging powers, action on climate change and a commitment to the UN target of spending 0.7% of Gross National Income on overseas aid.
For a full transcript of the debate see Hansard.
Published 27 May 2010