Foreign Secretary says Scotland's voice in the world is stronger as part of the UK
The House of Commons Foreign Affairs Select Committee today released evidence submitted by the UK Government in response to its inquiry into the foreign policy implications of a separate Scotland.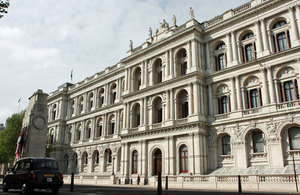 Commenting on the publication, Foreign Secretary William Hague said:
"As part of the UK, Scotland benefits from a place at the top table exercising influence in international organisations, including the EU, NATO and the G8. We have one of the most extensive, well-respected diplomatic and consular networks in the world, supporting thousands of UK citizens overseas and providing the essential infrastructure to support our foreign policy objectives. This network, along with targeted assistance from UK Trade and Investment, delivers world-class support to UK businesses.
"Our global presence means we are in a strong position as a country to protect our citizens at home and overseas, to help our businesses in an increasingly competitive world, and to offer the strongest possible basis to promote our foreign policy objectives.
"The UK is one of the most successful and long-standing political, social and economic unions in history. The close ties and our shared history mean we can project significant influence in the world and face global challenges and risks by pooling our talents and resources. The UK Government's position is clear: Scotland benefits from being part of the UK and the UK benefits from having Scotland within the UK".
The Secretary of State for Scotland Michael Moore said:
"Now that we have resolved the questions surrounding the process, the UK Government is eager to get into the real substance of this debate facing Scotland and the UK. I therefore welcome the publication of the Government's evidence on foreign affairs and look forward to the release soon of evidence on defence.
"Foreign policy and defence are two of the central responsibilities of any sovereign state, so it is fitting that the real debate should begin with discussion of these issues. Within the United Kingdom, Scotland's voice around the world is stronger and more influential, and this delivers real benefits to Scottish people and businesses at home and overseas.
"The UK Government has always said that it would provide evidence and analysis to inform the decision facing the people of Scotland which we will publish during the course of 2013, drawing on a wide range of viewpoints. The Advocate General's Legal Forum will be meeting again to consider the legal issues in more depth. We want to engage seriously with the arguments and set out the facts of what independence would mean. The Scottish Government must do the same."
Published 17 October 2012