Foreign Secretary pays tribute to journalist Brian Hanrahan
The BBC correspondent has died aged 61 after a short battle with cancer.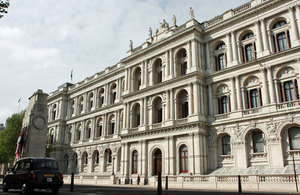 The Foreign Secretary William Hague said:
"I was saddened to hear of Brian Hanrahan's passing. His untimely death has cut short an illustrious career in broadcast journalism.
From the Falklands War to the fall of communism and beyond, Brian reported on some of the most momentous events of the past three decades.
Throughout his long tenure as a foreign and diplomatic reporter, Brian's professionalism, dedication and unfailing good humour won him great respect and many friends in British politics and throughout the British Diplomatic Service.
I offer my sincere condolences to his family, friends and colleagues."
Published 20 December 2010