Foreign Secretary pays tribute to Archbishop Desmond Tutu
Archbishop Desmond Tutu is stepping down from public life as he celebrates his 79th birthday.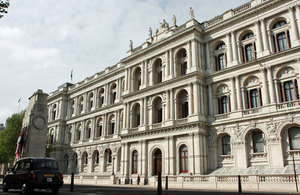 Speaking after Archbishop Tutu's announcement, the Foreign Secretary said:
"Desmond Tutu's eloquent conviction and strength of character are respected throughout the world. He has made an immeasurable contribution to South African society.
He played a significant part in South Africa's transition from apartheid-era isolation to the flourishing and unified nation we see today. And his pioneering work on South Africa's Truth and Reconciliation Commission has been a model for peace and reconciliation efforts worldwide.
He will no doubt continue to influence many in his country and around the world, through the power of his ideas and his distinguished record of service to his country."
Published 7 October 2010