Foreign Secretary on Uganda bomb attacks
The Foreign Secretary William Hague has condemned the bomb attacks in Kampala.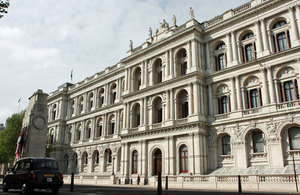 Speaking following the attacks, the Foreign Secretary said:
"I was deeply shocked to hear of the bomb attacks that took place in Kampala last night, which left many people dead and injured. I send my heartfelt sympathies to President Museveni and the people of Uganda, in particular the families and friends of those who lost their lives, and wish a full and speedy recovery to those who were injured.
These were cowardly attacks during an event that was widely seen as a celebration of African unity, and I condemn them in the strongest possible terms. The UK will stand with Uganda in fighting such brutal acts of violence and terror."
Published 12 July 2010