Foreign Secretary on London Olympics: "the greatest show on earth"
Foreign Secretary William Hague describes the UK as one of the best places to live, work, visit and do business with in an article marking 500 days to the London Olympics.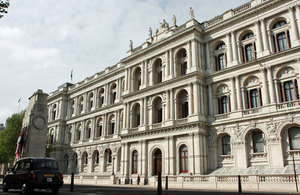 In just 500 days, the world's gaze will turn to the UK as the lights go up on the opening ceremony of the 2012 Olympic Games. The British people stand ready to welcome friends from across the globe, athletes and spectators alike, to what my friend and Chairman of the Games, Lord Coe, describes as the greatest show on earth. Our preparations are well under way, with our stunning new parkland development, the largest in Europe, already three quarters complete.
London is privileged to have been selected to host this international sporting extravaganza more times than any other city. On each occasion we have sought to make a lasting contribution to the Olympic movement. During London's 1908 games athletes paraded for the first time under their national flag and events held to coincide with the 1948 London Games would later give birth to the Paralympic movement. In 2012 we intend to honour this tradition of innovation by organising games that are more environmentally sustainable, accessible and inclusive than ever.
As such, the 2012 Olympic park design has energy efficiency at its core, providing a blueprint for sustainable living. 90% of the material from buildings demolished to prepare the site has been channelled back into construction and we have planted 20,000 trees providing a new lung for the city of London, a new habitat for wildlife and a new haven of relaxation for Londoners.
We have also incorporated disability access into the design and construction of buildings, open spaces and public transport; ensuring that all can fully enjoy the spectacle of the Games. Such work is of vital importance and I am deeply committed to opening up access to the Games. To this day, designing and passing the Disability Discrimination Act is my proudest political achievement. That is why I am so pleased that we expect 80,000 spectators for the Paralympic Games in 2012, a 16 fold increase since its inception in 1960, as through the Paralympics we continue to transform attitudes to disabled people with brilliant showcases of disability sport.
As part of our Singapore bid we pledged to connect young people across the globe to the power sport. The International Inspiration programme aims to give 12 million children in 20 countries access to high quality and inclusive physical education, sport and play. It has already reached more than 7 million children globally and over 300 schools in the UK have built partnerships with counterparts around the world as part of the programme.
Our Olympics will aim to bring people from across Britain together. Regions up and down the country will host visiting athletes at pre-Games training camps and the Olympic torch will light a path around the British Isles, bringing the spirit of the games to the four corners of our nation. The tour will come within an hour of 95% of the UK's population and entertainment, shows and concerts will mark its arrival at each stop.
We see our stewardship of the Olympics as part of a four year celebration of British culture. Cultural Olympiad projects in the art, film, music, digital and museum sectors are already under way and will bring further opportunities for everyone to take part in the celebrations, as will a 12 week festival of arts in the summer of 2012.
As British foreign secretary, I would like to invite you to see for yourself what the UK has to offer during this truly momentous occasion. I want to show you that our great nation is one of the best places to live, work, visit and do business in. As of today, you can book your tickets to the greatest show on earth. Come and join us for what promises to be a truly unforgettable experience.
Published 15 March 2011