Foreign Secretary meets Prime Minister of Haiti
Foreign Secretary William Hague met Prime Minister of Haiti Laurent Lamothe in London ahead of the Opening Ceremony of the London 2012 Olympic Games.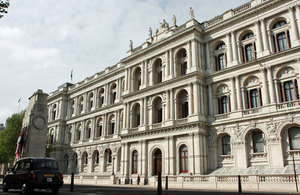 During his visit, the Prime Minister met HRH The Prince of Wales and members of the All-Party Parliamentary Group for Haiti. He also attended events involving UK businesses, non-governmental organisations and the Haitian community in the UK.
Prime Minister Lamothe, who is leading the Haitian delegation to the Olympics, is a former tennis player, and he represented his country at the Davis Cup in 1994 and 1995.
Speaking today, Foreign Secretary William Hague said,
"The UK has a strong interest in supporting Haiti on the road to stability, development and prosperity. We want to deepen our political dialogue with the Government of Haiti, and forge a partnership in trade and investment. As a sign of our commitment, support and interest in Haiti I announced last month that the UK will open a British Embassy in Haiti. This will be the first time we have had a diplomatic mission in Haiti since 1966.
"In this spirit of growing friendship and partnership it was a pleasure to welcome Prime Minister Lamothe today. We had excellent and warm discussions, and look forward to strengthening the growing links between our two countries. I wish all of the Haitian athletes competing in the Olympic and Paralympic Games the best of luck."
Published 27 July 2012