Press release
Foreign Secretary meets Greenpeace to discuss arrests by Russia
The Foreign Secretary meets Greenpeace Executive Director to discuss the arrest of six British Nationals by Russian authorities.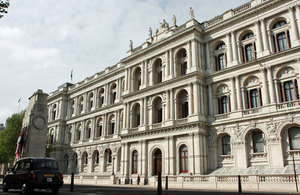 Following the arrest by Russian authorities of 30 Greenpeace activists, including six British Nationals, onboard the Arctic Sunrise vessel in the Arctic Circle, the Foreign Secretary William Hague met with the Greenpeace Executive Director John Sauven.
The Foreign Secretary said that he had raised the case with the Russian Foreign Minister Lavrov last week, and that our Ambassador in Moscow has also done so with Russian Deputy Foreign Minister Ryabkov yesterday. He said the Foreign Office would continue to raise specific concerns Greenpeace had about due process or welfare with the Russian authorities.
He confirmed that consular officials had met the British Nationals who had been arrested and remained in regular contact with them to ensure their welfare, and with their families. The Foreign Secretary assured Mr Sauven that we would continue to provide them with full consular assistance, as appropriate, and work to ensure they had access to legal representation.
The Foreign Secretary said:
We would remain in close contact with all other nations whose citizens were involved, and make representations to the Russian authorities as necessary.
Further information
Follow the Foreign Secretary on twitter @WilliamJHague
Follow the Foreign Office on twitter @foreignoffice
Follow the Foreign Office on facebook and Google+
Published 3 October 2013