Press release
Foreign Secretary meets Greek Deputy Prime Minister and Foreign Minister
William Hague hosted the Greek Foreign Minister today and welcomed Greece's 2014 EU Presidency priorities of economic growth and jobs.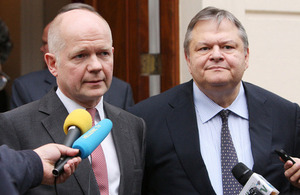 The Foreign Secretary met Deputy Prime Minister and Foreign Minister Evangelos Venizelos in London today for a substantive bilateral meeting – the first since Mr Venizelos' appointment in June.
Mr Hague said:
It has been a great pleasure to welcome my friend and colleague Evangelos to London today. This is an important time for Greece, as it prepares for its Presidency of the European Council in January 2014. The UK is enthusiastic about the priorities Greece has identified for the Presidency, with its focus on economic growth, maritime priorities, migration and the Eurozone.

Also we have been able to celebrate our good bilateral relationship, we have a good economic relationship with more than $3 billion of trade and many, many connections between our peoples, including tourism. We talked about global issues, and I was able to brief on Iran nuclear talks in Geneva last weekend, the problems in Syria and our common support for a political solution through a Geneva Peace Conference in January. We also had a good discussion about prospects for a settlement in Cyprus and I welcomed Greece's significant contribution to that process.

So, we have had a good discussion and we want to help in any way we can during Greece's Presidency of the European Council and I wish my Greek colleagues every success.
Further information
Follow the Foreign Secretary on twitter @WilliamJHague
Follow the Foreign Office on twitter @foreignoffice
Follow the Foreign Office on Facebook and Google+
Published 28 November 2013