Foreign Secretary meets Bangladeshi Foreign Minister
Foreign Secretary William Hague met Bangladeshi Foreign Minister Dr Dipu Moni today.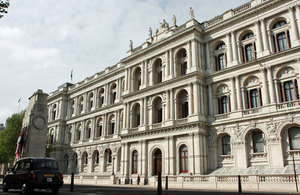 Today the Bangladeshi Minister for Foreign Affairs Dr Dipu Moni visited the Foreign Office to meet the Foreign Secretary.
During their meeting they discussed many aspects of the strong relationship between the UK and Bangladesh. The agenda included the countries' shared interest in tackling extremism and terrorist threats, the priority both countries give to climate issues, the importance of further developing trade relations, the valuable role of the Bangladeshi diaspora in the UK, and Bangladesh's important contribution to UN peacekeeping operations. The Foreign Secretary also underlined the UK's commitment to a strong development relationship to support Bangladesh's economic growth and poverty alleviation.
Published 24 August 2010