Foreign Secretary launches Olympic film with Lord Coe
Tonight Foreign Secretary William Hague will introduce a premiere of Game Changer: Britain prepares - a new film commissioned by the FCO that tells the amazing story of people across the UK preparing for the London 2012 Olympic and Paralympic Games.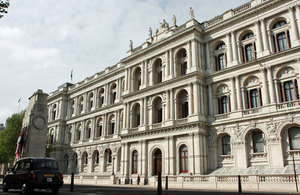 This exciting film will be shown to millions on television, in Embassies and at hundreds of events around the world to tell the incredible story of the preparations for the 2012 Games. Several storylines take the audience to different parts of the United Kingdom, showing business opportunities and creativity across the country. Watch clips from the film below.
Game Changer: Britain Prepares
The film features:
The Royal Mint in Wales which is producing 4,700 Olympic and Paralympic medals;

The designers and engineers of the Orbit tower at the Olympic Park who had to overcome significant structural design issues to manage such a complicated build;

Fashion designer Zandra Rhodes who is leading a Cultural Olympiad project in Coventry;

BAE systems who are deploying cutting-edge methods to develop Paralympic wheelchair performance;

The historic Horse Guards Parade, which is being transformed into a modern beach volleyball arena for the enjoyment of thousands;

The London Philharmonic Orchestra who are recording 205 national anthems with original scores;

And David Beckham, who helped nominate an outstanding member of the community as an Olympic torch-bearer.
The Foreign Secretary said:
"This film will demonstrate the best of Britain to audiences across the world.
"As well as making it available to broadcasters across the globe, our diplomatic missions will screen the film at Embassy events and work with UKTI, British Council and other partners to reinforce our messages about British creativity and business excellence wherever we are represented.
"2012 is an exciting year for all of us. I hope the film will give you a sense of this and inspire you all with the incredible energy, talent and skill shown by all those involved in the Games."
This film demonstrates how individuals and organisations are facing and solving complex building, technology and transport issues. With a very British 'can do' attitude they are delivering on their promises to stage the greatest show on earth. This account of the build up to the Games portrays the best of Britain's creative industries and the hardworking nature of the people at the heart of the 2012 Games.
The film follows Going for Green: London's 2012 Dream, also commissioned by the FCO and launched by the Foreign Secretary in November 2010, which focusses on the creative approach to building and designing an Olympic Park that will have a genuine and lasting legacy. The film successfully demonstrated British creativity, excellence in construction and cutting edge 'green' technology.
Lord Coe, the Chairman of the London Organising Committee of 2012 Games (LOCOG), will also speak at tonight's launch.
Published 10 January 2012