Foreign Secretary in Russia
Foreign Secretary William Hague says Russia is an "important partner for the UK".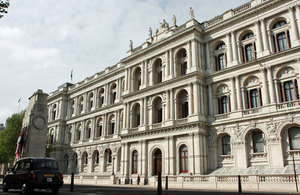 The Foreign Secretary met with Russian President Dmitri Medvedev and Foreign Minister Lavrov, as well as representatives of business and industry. During the two day visit he is reinforcing the UK Government's commitment to a frank, open and productive relationship with Russia.
On arrival in Moscow, the Foreign Secretary recorded a video message
The Foreign Secretary said:
"Russia is an important partner for the UK, on a wide range of international issues, including Iran's nuclear programme and the Middle East Peace Process. My meetings in Russia will also cover trade and investment, counter narcotics, global economic issues and the strengthening of economic and cultural links between our two countries. Britain's relations with Russia have been strained by a number of serious issues on which we do not see eye to eye. Where we do differ, I shall say so plainly and clearly, while exploring the scope to address those differences. The door is open to better relations between Britain and Russia; we shall see if a door opens in return."
On BBC Radio 4's Today programme, the Foreign Secretary said that he wanted a better relationship with the Russians but the poisoning of Alexander Litvinenko in 2006 hadn't been forgotten.
"That remains a major problem in bilateral relations and I don't think that problem is going to go away. It's not going to be set aside, it's not going to be put behind us; it is something that we will have to continue to discuss with Russia, so it's not a problem that can be ignored. But I think while we discuss that with Russia there are other things that we can be doing"
Published 13 October 2010