Foreign Secretary embarks on 'Europe week'
Foreign Secretary William Hague has embarked on a week long series of visits to European capitals.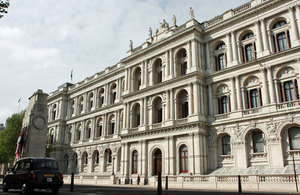 Mr Hague announced the visits during the European Affairs debate on 3 June.
The Foreign Secretary's first destination was Paris, where he met with French Foreign Minister Bernard Kouchner on Sunday 6 June.
Whilst travelling to Paris Mr Hague was asked by the BBC's Today programme about how other European countries would find the British coalition Government's approach to Europe. In response, Mr Hague said:
"They will find that Britain's new coalition Government is very, very active in European affairs and proposing European solutions to many of our problems in the world."
Upon departing Paris, the Foreign Secretary travelled to Rome on June 7, for a joint press conference with Italian Foreign Minister Frattini.
From Rome he will travel to Berlin, accompanied by Nick Clegg, the Deputy Prime Minister, to meet with German Foreign Minister Guido Westerwelle, finally ending his trip in Warsaw, where he will attend discussions with Polish Foreign Minister Rados?aw Sikorski.
Published 7 June 2010