Foreign Secretary discusses future of the Commonwealth with Kamalesh Sharma
Commonwealth Secretary General discuses priorities for forthcoming Heads of Government meeting in Perth.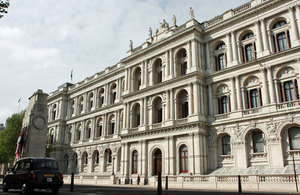 The Foreign Secretary William Hague today met Commonwealth Secretary General Kamalesh Sharma for talks on this month's Commonwealth Heads of Government Meeting (CHOGM) to be held in Perth.
This year's CHOGM, which takes place from 28 - 30 October, marks an important opportunity for Commonwealth leaders to reflect on reform of the 54 member organisation, as suggested in recommendations of the Eminent Persons Group and the Commonwealth Ministerial Action Group review.
Outlining the UK's aims for CHOGM and his support for the work of the Eminent Persons Group, the Foreign Secretary said:
"In my talks with Secretary General Sharma today, I reiterated my belief that the Commonwealth is a unique organisation and the world's best soft power network. We agreed that the Commonwealth must remain relevant, realise its great potential, and bring strong values, development and prosperity to all its citizens.
"I welcome and strongly support the work of the Eminent Persons Group in this process, and believe that CHOGM in Perth could be a defining moment for the future of the Commonwealth."
Published 6 October 2011