Foreign Secretary 'disappointed' at the outcome of the Arms Trade Treaty negotiations
Foreign Secretary William Hague has expressed his disappointment that international negotiations on the Arms Trade Treaty did not reach a conclusion yesterday.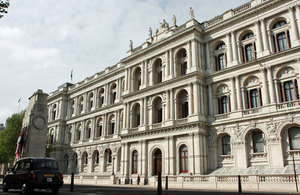 Commenting on the the Arms Trade Treaty negotiations, the Foreign Secretary William Hague said:
"I am disappointed that negotiations to secure agreement on an effective treaty to regulate international trade in conventional arms did not reach a conclusion yesterday.
"Over the last six years, the UK has played a leading role in building support for a strong Arms Trade Treaty. In the last month, Ministers and officials in London and New York and our diplomats overseas have worked tirelessly for a positive outcome.
"This is not the result we wanted. But we have made huge progress. The Chair's draft treaty has our full support as well as that of the great majority of other states. But to be fully effective, the Treaty will need very broad - ideally universal - participation. It is clear that more time is needed to reach the widest possible agreement.
"We now need to maintain the momentum and to complete this crucial work as soon as possible, taking the issue to the UN General Assembly. An Arms Trade Treaty is coming. It will not be this week but we will succeed. When we do, the world will be a safer place."
Published 28 July 2012