Press release
Foreign Secretary congratulates Greece for voting to resolve long-standing 'Macedonia' dispute
On 25 January 2019, Greece's parliament voted to ratify the Prespes Agreement which resolves a long-standing dispute over the use of the name Macedonia.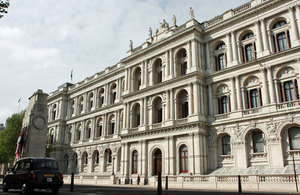 The dispute had created tensions for nearly three decades, and had been an obstacle to Macedonian membership of NATO and the EU. We look forward to full implementation of the deal.
Foreign Secretary said:
The UK congratulates Greece's Parliament for successfully ratifying the Prespes Agreement. This is an historic moment bringing a decades-old dispute close to an end. Today's vote paves the way to the full implementation of the Agreement, which has the full support of the UK.

Both countries have demonstrated great courage and the will to work together to affect real change. The deal brings the prospect of increased stability and prosperity to the wider region. We look forward to continued working with two trusted allies in the interests of European security.
Further information
Published 25 January 2019