Foreign Secretary confirms David Simpson return to the UK
Foreign Secretary William Hague has spoken following David Simpson's arrival back in the UK from the Central African Republic.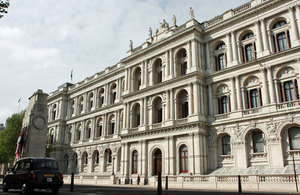 He said:
"I am delighted to confirm that David Simpson is now back in the UK. Government Ministers and officials have worked hard on his behalf. I raised the case with Central African Republic Foreign Minister Gambi in August and am pleased that his case has now been resolved.
"Foreign Office Minister for Africa, Mark Simmonds, has spoken to Mr Simpson's family to pass on his and my best wishes."
Published 8 September 2012