Foreign Secretary comments on universal jurisdiction
Foreign Secretary William Hague commented on the proposed amendment to the arrangements for obtaining arrest warrants in respect of universal jurisdiction.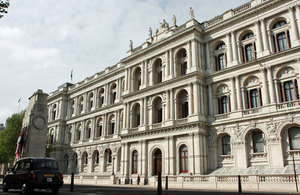 This is included in the Police Reform and Social Responsibility Bill which was presented to Parliament on 30 November 2010. Under the proposed change the consent of the Director of Public Prosecutions would be required before an arrest warrant could be issued to a private prosecutor in respect of an offence of universal jurisdiction.
The Foreign Secretary said today:
"The UK is committed to upholding international justice and all of our international obligations. Our core principle remains that those guilty of war crimes must be brought to justice.
This government has been clear that the current arrangements for obtaining arrest warrants in respect of universal jurisdiction offences are an anomaly that allow the UK's systems to be abused for political reasons. The proposed change is designed to correct these and ensure that people are not detained when there is no realistic chance of prosecution. It is now important that the amendment is considered by Parliament in line with normal constitutional practice."
Search the news archive
Published 1 December 2010