Foreign Secretary comments on British Nationals on the Costa Concordia
The Costa Concordia Italian Cruise Liner ran aground on Friday 13 January off the coast of Giglio island. Foreign Secretary William Hague spoke about the incident on the Murnaghan programme this morning.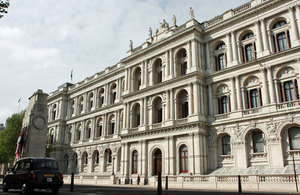 William Hague: Now we have been getting a lot of information from different sources, cross checking it and on the basis of that we can say now, on the basis of information available to us, that all the British nationals involved are accounted for and are safe, that is 23 passengers and 12 crew. We're not complacent about that, there may still be some other information that comes to light but based on all the phone calls we've had, the passenger lists, the people that we've been able to track down, the British nationals, 35 British nationals are safe and accounted for.
Dermot Murnaghan: And if required, Foreign Secretary, given the haste with which they may have left and probably did leave the liner, will assistance be given in getting them to where they need to go?
William Hague: Yes, of course, yes, that's part of what our rapid deployment team do so there will be assistance available to them at the airport and a reception centre available for them in a Rome hotel. It is primarily of course the responsibility of the cruise liner to arrange flights for people back home but British Embassy staff, British consular staff will be around to assist people. The phone numbers for people to contact have been well advertised, if they need any assistance with travel documents for instance, that is often a problem in these cases, then we will of course give them that assistance so we are doing our utmost to look after everybody. They have been through a very dreadful and distressing experience so we'll do all we can to look after them, that is our prime concern in a case like this, to make sure British nationals are safe and looked after.
Anyone concerned about British passengers should contact the British Embassy in Rome on (+39) 06 4220 0001.
Published 16 January 2012