Foreign Secretary calls for restraint in Cote d'Ivoire
Violence continues to occur in Abidjan, Cote d'Ivoire. Foreign Secretary William Hague has issued a statement calling for restraint on all sides.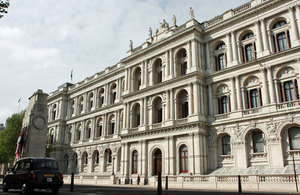 "I am gravely concerned by the violence in Cote d'Ivoire and deplore reports of loss of life. I call on all sides to exercise restraint, and condemn the looting and lawlessness reported in Abidjan. I am determined that all alleged human rights abuses in the city and elsewhere in Cote d'Ivoire must be investigated and those responsible held to account.
"Laurent Gbagbo must heed the calls from the international community and step down at once to prevent further bloodshed. I will be discussing the crisis with AU Chairperson Jean Ping during his visit to London on Monday."
Published 2 April 2011